Ai & Colombia
Colombia has taken a unique approach to embracing the spread of artificial intelligence. Compared to industrialized nations like the United States, Germany, or Japan, Colombian businesses have done little to implement AI into their operations. However, the Latin American country has not disregarded this form of automation; rather, businesses and the government are in the process of expanding Colombia's knowledge base and resources so that Colombians are well prepared for the AI revolution.
Bogotá is building technologically-advanced skyscrapers
In November 2017, the capital and largest city in Colombia hosted the Bogotá AI conference, which had the goal of advancing the business applications of artificial intelligence in the country. The conference was a product of City.AI, a community of AI experts that arranges quarterly get-togethers to connect the AI community.
The Bogotá conference was particularly important because of its big-name attendees. Speakers included executives from PayU, a Dutch digital payment provider that uses AI to reduce fraud when approving transactions in emerging markets; 1DOC3, a website that uses machine learning programmed by medical professionals to answer health questions; and Cognitiva, a cognitive solutions company working on developing the capabilities IBM's Watson in Latin America.
Why Automation Hollows Out the Middle Ground
Cognitiva's Silicon Valley-esque office in Bogotá
By bringing together these companies, City.AI hopes to enhance the presence of AI in Colombian businesses by growing the country's knowledge base. Future conferences in Bogotá are expected to be held, and Bogotá is one of only three cities in Latin America—along with São Paulo and La Paz—to host a City.AI conference. This could mean Bogotá will become a center of AI and machine learning on the continent.
Formula 1 Racing & Artificial Intelligence​
Downtown Bogotá
A month after the Bogotá AI conference, the Institute for Robotic Process Automation and Artificial Intelligence (IRPA AI) signed an agreement to launch an "AI Center of Excellence" in Medellín, Colombia. The goal of the center is not necessarily to develop new AI technology, but to develop talent pool that will advance the business applications of AI. The project is a partnership with Ruta N, a company seeking to promote economic growth through technology and innovation.
Google Stadia : New Innovations in Gaming
Ruta N's offices in Medellín
The company is publicly-funded, meaning the government of Colombia is financially supporting this project. Medellín is the second-largest city in Colombia with a growing startup culture, and the Wall Street Journal named it the "Innovative Center of the Year" back in 2013. This makes it the ideal location for the AI center. If successful, the center could make Medellín an AI hub in Latin America, promote foreign investments, and improve overall business development.
Man versus Drone: A look at the future of drones in the energy industry
With these conferences and the AI Center for Excellence, Colombia is hoping to fully utilize its AI capabilities. According to a report by Accenture's Armen Ovanessoff and Eduardo Plastino entitled "How Artificial Intelligence Can Drive South America's Growth," fully utilizing AI technology could boost Colombia's economy and reverse a trend of slowing growth. In 2011, Colombia's GDP growth was 6.6%; in 2016, it was only 2.0%. To make matters worse, total factor productivity growth has decreased from 0.8% between 2001 and 2005 to 0% between 2011 and 2015. These trends could be reversed with full AI utilization. The report predicts that gross value added would increase by $78 billion and grow by 4.5% per year, compared to 3.7% in 2016. However, the report notes that a limited knowledge base and minimal research and development are obstacles that stand in the way of this growth.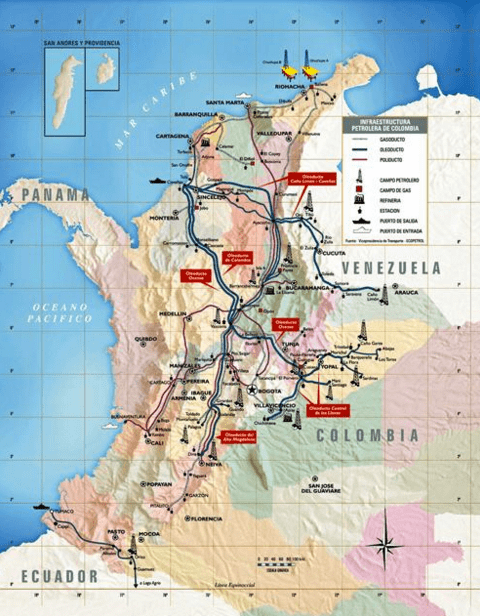 Colombia's petroleum exports still make up nearly half of the nation's GDP
Colombia is working hard to overcome these obstacles. The AI conferences and Center for Excellence aim to increase the knowledge base and attract research and development spending from within and abroad. These changes could usher in a new era of technological growth in the Latin American country.
Just recently Stanford Professor Andrew Ng, best-known for proving Deep Learning in 2009 using 4 million pictures of cats, opened offices in Medellín. Ng's 3 companies; Landing Ai, Deeplearning.ai & the Ai fund will all open offices. And earlier this year the Colombian Ministry of IT & Communications created a pilot program to train over 4,000 engineers in AI.
Interview with NASA Astronaut Scott Kelly: An American Hero​
13 Questions With General David Petraeus
Why Choose Machine Learning Over A Traditional Financial Advisor?
Nuclear Submarines: A 7,000 Lb Swiss Watch
Interview with the Inventor of Amazon's Alexa
Ai Can Write Its Own Computer Program
On Black Holes: Gateway to Another Dimension, or Ghosts of Stars' Pasts?
Supersonic Travel: The Future of Aviation
Conversation with Bloomberg's Former Head of Trading on the Future of Humans in the Trading Industry
Shedding Light on Dark Matter: Using Machine Learning to Unravel Physics' Hardest Questions
The Implications of Machine Learning on Condensed Matter Physics & Quantum Computing
Libya Offers Promise But Much Risk​
Lockheed Martin Confirms the SR-72 – Son of Blackbird Will Reach Anywhere in the World in One Hour
Ai to Power China's Robotic Submarines
Ai & Columbia